Our festive themed 'Let it Stow' Half Trail Marathon returns on Sunday 18th December 2022, utilising well trodden footpaths to offer idyllic views of Stowmarket Town and the beautiful mid-suffolk countryside.
Add some festive cheer to your race diary with this relaxed and friendly race. Spot prizes for best festive attire!
What's Included?
Manually Timed

Finisher Eco-Friendly Medal

Mince Pie
Covid-secure race measures

Trophy for top 3 Male / Female

Toilets available at start / finish

Well signed idyllic 13.1 mile route
Professional photography by Epic Action Imagery
Full refund if race is cancelled due to Covid-19
Date: Sunday 18th December 2022
Registration: 09:00 – 09:45
Start: 10:00am
Cut Off: 3.5 Hours
Age Limit: 17 Years
Route:
Stowmarket
Northfield Woods
Great Finbrough
Harleston
Dagworth
This mildly undulating route includes woodland, meadows and quiet country lanes, there are a number of road crossings to be aware off . The route will be well marked using a combination of arrows and hi-vis tape.
View Route and download GPX here ( Click Menu > Export GPX)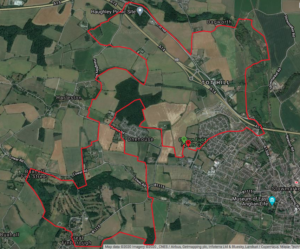 Cupless Race:
Please note this is a cupless race. Fresh drinking water will be available for you to refill your bottles at the start, / finish but no cups will be provided. This is to reduce single use waste.
Race Start Location:
Chilton Fields Social Club, Chilton Way, Stowmarket, Suffolk IP14 1SZ
Additional Parking is available at The Kingsfield Centre, Chilton Way, Stowmarket IP14 1SZ just a short 5 minute walk away.
Please note: All cars parked in the car park do so entirely at their own risk and the race organisers or land owners accept no responsibility for any loss or damage to vehicles or valuables parked there.
Registration:
The registration desk at the race start will be open from 09:00 am where race numbers should be collected up until 09:45am. Please note race numbers will not be sent out in the post prior to the event.
Please allow sufficient time to collect and attach your bib prior to your run.
Entry Conditions:
This is a multi-terrain event and all competitors enter it at their own risk. While medical assistance is provided for the duration of the event no liability will be accepted by the individual race organisers or land owners for any injury incurred by entering this race.
Pictures and video footage may be used on the Raw Trails website or that of our sponsors and in advertising material and media write-ups. All competitors entering the race agree to their photograph being used for these purposes.
It is a condition of entry that all competitors agree to the terms and conditions as set out on the Raw Trails website.
Medical Support
Qualified First Aiders will be on hand at the race head quarters to assist with any emergency injuries. Please note you should seek medical advice from your local GP if you are in any doubt as to your health in competing in this event. The organisation will not be held responsible for any injury, accident, loss or damage that may arise before, during or after the event as a consequence of a competitor's participation in the race.
If you are injured on the course please call the Race Director on 07585119308 who will arrange assistance.
If you see another runner on the course who is in distress, please stop and help this runner.
Race Withdrawal
If you withdraw from the race you must inform a marshal or the Race Director on 07585119308
TRA Permit